Do you have what it takes to be a talent expert?
The German version of this article can be downloaded here.
​
Why a career at Phaidon International could be a great fit for you
As a graduate, whether recent or soon-to-be, you're at a crossroads: which career path will fulfil you both personally and professionally? Which role will provide financial stability and fast development opportunities that match the effort you put in?
The answer may lie at Phaidon International. If you're passionate about helping companies identify, engage, and attract exceptional talent who support their mission, you could be the next member of our fast-growing talent team.
To help you decide if being a consultant is the right career path for you, we talked to new joiners as well as senior members of our Berlin team to discover their backgrounds, motivations, and goals.
​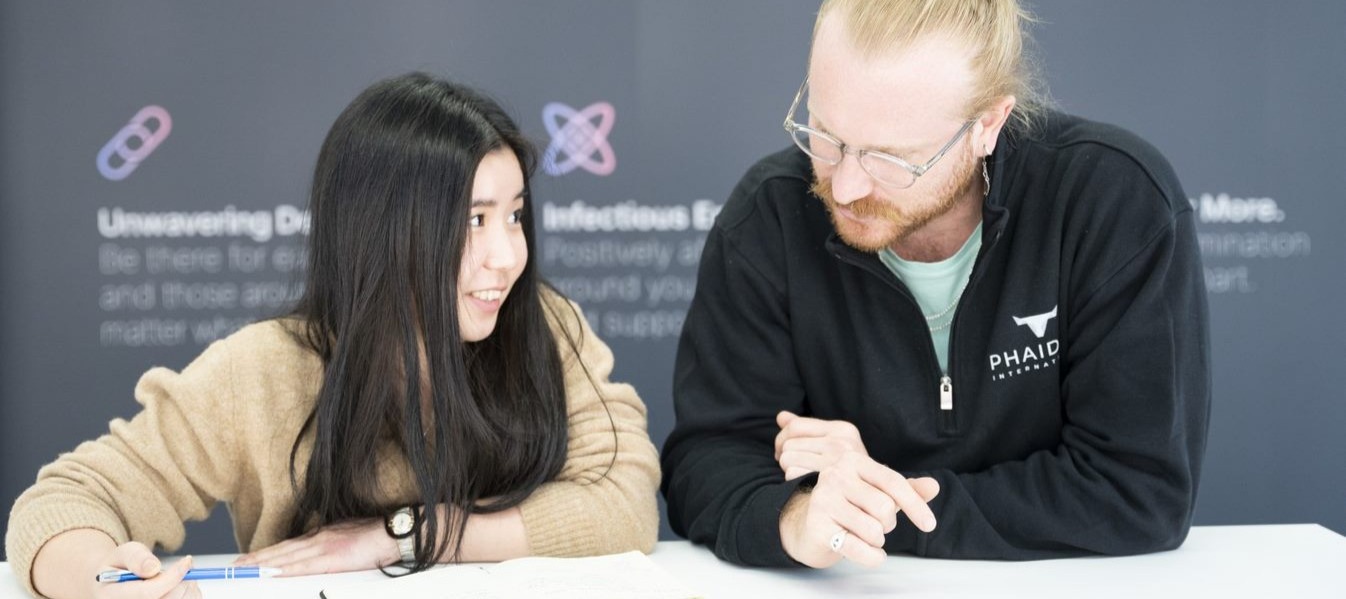 ​
Building a rewarding and fulfilling career
Increasing awareness about the impact individuals have on society and the planet has led many graduates to look for careers that are both meaningful and contribute to a better future. Phaidon International exists to match ambitious companies with exceptional talent.
"The job is rewarding in the sense that you're able to find someone a new position, and that contributes to the professional's wellbeing," says Giovanny from Selby Jennings, Phaidon International's Financial Services brand.
As a consultant at DSJ Global, Phaidon International's Supply Chain brand, Hong Ha most appreciates that their services save companies and professionals time, money, and frustration.
Hong Ha sees our consultants as "matchmakers" between exceptional talent and critical businesses, which can't function at full capability without finding the perfect candidate for their open positions. On a macro level, finding the perfect talent for companies secures critical functions for our economy and our day-to-day lives.
​
​Financial stability
That said, let's look at the classic aspect of any career choice: compensation. As Yacine Fall from DSJ Global explains, there really is no other field where young graduates can progress so quickly.
Yes, it is an investment: you need to put in the hard work at the start to become successful long term, but then your growth potential truly manifests. "We have some who retire in their 40s," Yacine says. "FIRE – Financial Independence, Retire Early – is a real possibility here."
​
On-the-job learning
​In a similar vein, new Phaidonites, as we call them, don't need to have any experience in sales. In terms of language skills, English is the only requirement, which motivated Giovanny from Selby Jennings to join the Berlin office. Your degree can also be in anything.
​Jan Feger, Principal Consultant, Glocomms

Studied Sports Management

​Shravani Mastakar, Talent Acquisition, Phaidon International

Majored in Business and Engineering

​Thi Hong Ha Le, Senior Consultant, DSJ Global

Has a background in Tourism Management
​
Hong Ha discovered Phaidon International when looking for a more stable opportunity. She has always excelled at communicating with people, which is why the role of a consultant appealed to her. Now, after 3 years at DSJ Global, she has learned the trade and knows the market so well that she can enable exceptional careers for professionals in her network.
Phaidon International provides the support and training you need to succeed. "All other firms wanted experience," says Lyss Moss, "but I was looking for somewhere I can learn. Phaidon International offered that – so I applied immediately."
Monica Molla, Manager at Glocomms, Phaidon International's Technology brand, believes anyone who works hard can excel at Phaidon International, regardless of their background or knowledge level. "Passion, ambition and working hard, those are the three key aspects."
​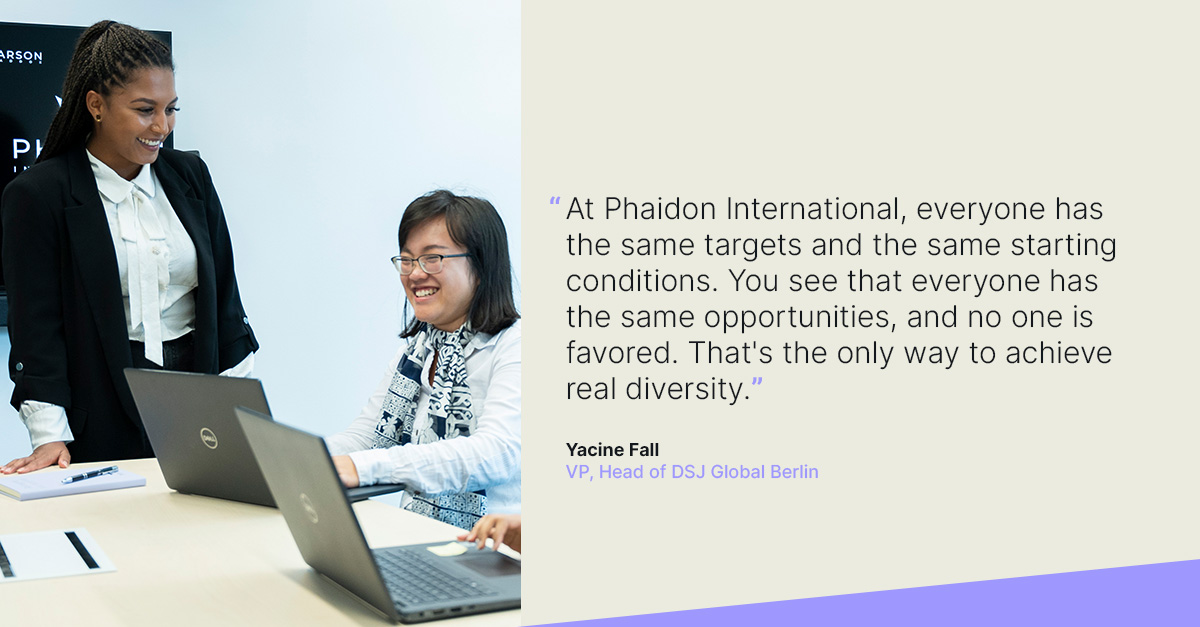 ​
Equal opportunities
In terms of opportunities, Yacine is a great example of how Phaidon International is living and breathing equality. 50% of Berlin's managers are female like Yacine, and the team recently welcomed Lyss Moss as a first nonbinary member. Yacine herself started with no experience just after graduating university and now heads up the Berlin branch of DSJ Global along with Yumiko Moehlmann.
New joiners are welcome at any point in their lives/career. They don't have to be an alumni from a top university either, or know the industry they join at Phaidon International given the extensive training and expert knowledge that is developed on the job.
Before starting at DSJ Global, Yacine had no knowledge of Supply Chain. Joseff Richards had no experience with Financial Services when he started in 2020 – by 2022 he launched the Selby Jennings branch in Amsterdam.
Guy Burch was also unaware about the Technology sector when he joined and now he is the Berlin Head of Glocomms. Experience "might be helpful for software recruiting," he says, "but if you have an interest in IT and software, you can learn with the job."
Across the brands, his colleagues agree. Over the years, as you speak with candidates and company representatives, you learn the ins and outs of any industry you tackle. The insights you gather from real people shaping the markets may be even more insightful than those you get from any theoretical course.
​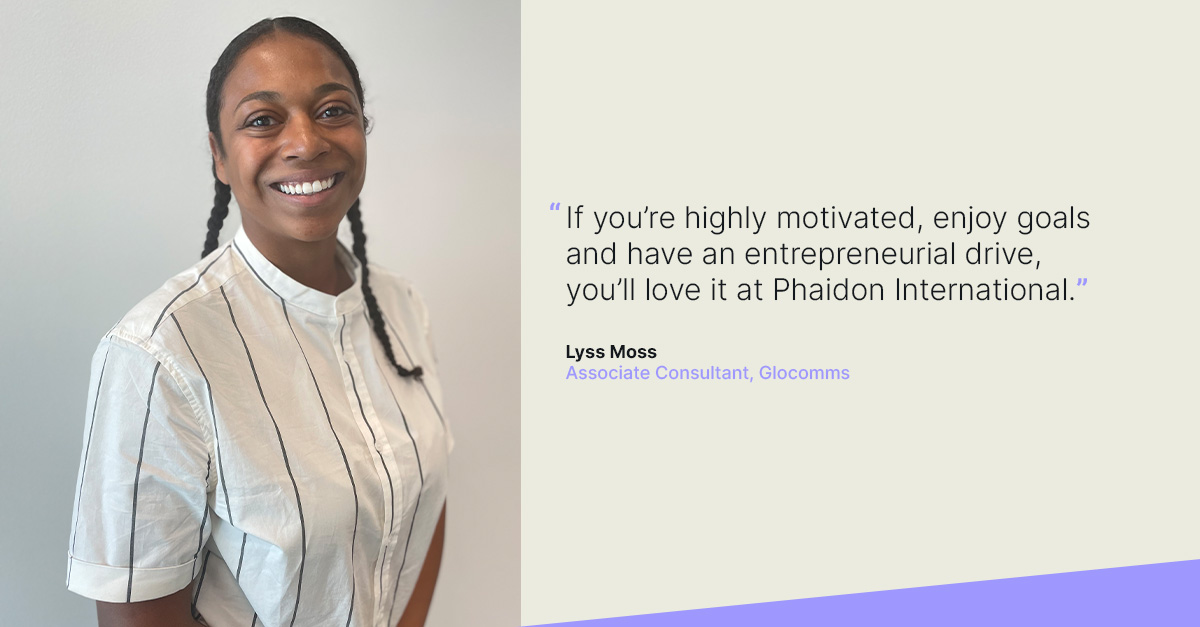 ​
Recommended values
Experience aside, are there specific qualities or values a person must bring to the proverbial table? The short answer: not many.
While there is a set of values that guide the behaviors of our Phaidonites, and that all new consultants need to follow, there are no hard rules regarding traits. The consensus amongst new joiners and more senior consultants alike seems to be that working at Phaidon International is for almost anyone who is driven and resilient.
"Honestly, your personality could be anything. You have to be open to learning new things and how we do things. Everything else can be taught."

– Sharavani Mastakar, Talent Acquisition
Even if you're an introverted person, you can become an amazing matchmaker for talent and companies, as Giovanny's career shows. The self-identified introvert was skeptical about whether the role of a consultant was the right path for her.
"At one point, I was thinking, 'This might not be the job for me'." But after three months, she says, she had grown into the new challenge and has even become more outgoing. "My brother was quite surprised at how extroverted I've become!"
That said, there are several other aspects of your personality that make you more suited than others for being a consultant.
You need to be open to diversity, says Jan Feger from Glocomms, since at Phaidon International, "You Matter" irrespective of who you are, where you are, your experience level or your belief system. In Berlin, for example, you will have colleagues from over 20 countries working alongside you and everyone is treated the same. As Yacine explains, "No matter where you're from, it's about what you achieve here."
Lyss Moss recommends Phaidon International to anyone who's an out-of-the-box thinker and a people person. It's not that you have to be outgoing, but you need to like talking to people. Since you are your own business within the support network of Phaidon International, intrinsic motivation is key.
That's where talent comes in: "Most people can be a consultant if they have the resilience and a basic blueprint to follow," Guy Burch, Head of Glocomms DACH, says. "What sets you apart is the talent of connecting the dots and mastering the art of doing it. Figuring out tips and tricks to maximize your success, work smarter, not harder, and rely on intuition to find a perfect match of candidate and client."
"You get all the tools to be successful and aren't hindered by external factors. Of course, your success is about how talented you are, but also how much work you put in."

– Guy Burch, Associate Director, Head of Glocomms DACH
Lyss, who has only been at Glocomms for a few months when they spoke with us, compares being a consultant to a puzzle: "You have candidates and companies and you're marrying them together to the perfect fit. This job is for people who like to see a big picture come together."
​
Growth potential
Traditional careers require one thing for you to maximize your potential as an expert in your field: time. While that is true for Phaidon International as well, the span you need to work to see progression in your career is much shorter.
Phaidon International's current growth phase and the prospect of fast progression was a key motivator for Yacine to join. "When you're ready," Yacine says, "the position will be created for you. We say, 'career without limits', and we mean it."
Joseff Richards is still amazed by his quick progression. "I've been here nearly 3 years. I've gone from no experience in talent to leading a team of three and moving to Amsterdam!"
​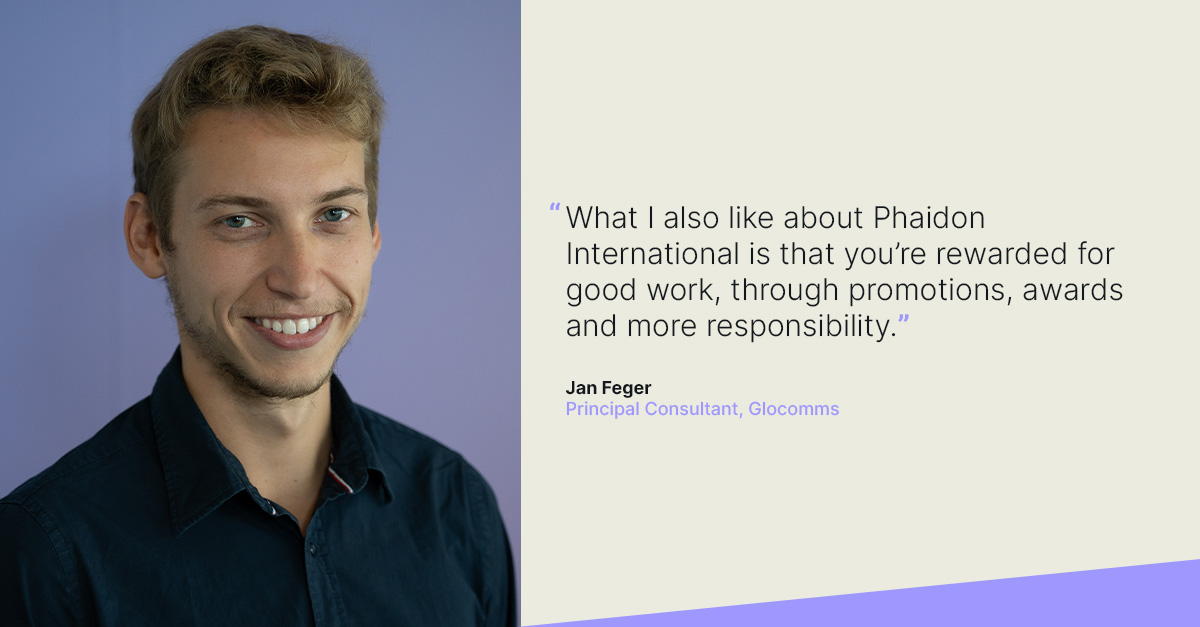 ​
Active reward culture
Along with tangible development opportunities, Phaidon International has a very pronounced culture of recognizing great work.
Joseff from Selby Jennings says: "Once you do climb up the ladder, you get opportunities to relocate with the business and so much more. For example, I went on a ski trip with the top 20 consultants in 2022."
If you're yearning for a place of work where you're actively rewarded for great performance, then Phaidon International may be the perfect match.
​
Office spirit
Don't expect a monotonous office job, though. "There is no day-to-day here," says Shravani. "Every day is different because you're talking to different people all day long. It's a rollercoaster, exciting and fun!"
A rollercoaster within an amazing office environment. "I love the values that we have and the energy the office has," says Joseff when he was based in Berlin. Lyss Moss from Glocomms also highlights that, no matter which brand you're working for, anyone in the office is always happy to help, provide feedback and be there for you.
That company culture is what draws so many wonderful consultants to Phaidon International. "Otherwise I wouldn't have stayed," admits Jan Feger. "There's a good work-life balance and I really enjoy the atmosphere."
Rewards, great culture, a job with meaning – what more could you wish for?
​
So, do you have what it takes to be a talent expert?
By now, you will have a clearer understanding of what being part of Phaidon International entails.
"I'd recommend the consultant role to people who are driven, who want to achieve something in a tangible sense. People who are looking for financial independence and stability. A career that's a bit out of the ordinary. It's similar day to day, but no day is the same since you're speaking to different people about different jobs all the time."

– James Cookson, Head of Selby Jennings
He goes on: "Sure, it's a challenge and you need to be resilient, but it's a rewarding challenge."
At Phaidon International, you get to define your own success. With energy, drive and imagination, there's no limit to where your career can lead.
We provide the training, support, and opportunities to help you unlock your full potential and build a career that's as unique as you. If you're ready for the challenge, apply now to work with us.