​5 ways to celebrate Pride Month this year
Pride Month is celebrated annually and honors the 1969 Stonewall Uprising in Manhattan; a catalyst for the historic Gay Liberation Movement and the fight for LGBTQIA+ rights that followed. Today, Pride encompasses a spirit of progress and whilst it can be nuanced and diverse for so many people, Pride has come to symbolize the 5 pillars its name is taken from – Promotion, Respect, Inclusion, and Dignity for Everyone.
While there is much to celebrate, Pride is still a protest. There are still many headways to be made to eliminate discrimination, homophobia, and stigmatism, among others, and that's why raising awareness for issues affecting the LGBTQIA+ community is so important outside and inside of the workplace. By celebrating Pride at work and standing in solidarity with the LGBTQIA+ community, this helps to reduce biases, educate, connect with employees, promote pro-equality legislation and an inclusive presence in your company, and move the dial forward so we can work towards a brighter rainbow-colored future.
How can you get involved?
1.
Knowledge is power
To be able to support Pride, it's important to take some time to properly educate ourselves on major events and social issues. Learning about the history of the LGBTQIA+ movement – the Stonewall riots – and the experiences of those individuals is a great place to start. The non-fiction book Pride, by Matthew Todd, takes us back to when the Stonewall bar was first raided and the subsequent events that followed. This book also contains rare photos, documents, and interviews with pivotal figures.
You could also watch Disclosure, a Netflix documentary created by Laverne Cox, which is a great way to get up to speed on trans history. The documentary explores how the representation of trans individuals in TV and film has evolved over the last 100 years. Lastly, there are many bite-sized podcasts to plug into. Tan France's eight-part podcast, Queer Icons, is worth a listen as it celebrates LGBTQIA+ figures from across the globe and delves into some crucial themes such as Black queer history, disabled queer narratives, activism, and much more.
2.
Rainbow-themed merch
Pride-themed merchandise is a great way to make a meaningful difference and spread the love, not only during Pride Month, but all year round. From rainbow flags, bags, stationery, to t-shirts, Pride merchandise helps foster greater acceptance and a shared understanding of the LGBTQIA+ community.
At Phaidon International, we've created our own Pride t-shirt for employees to purchase and wear not only on Stonewall Day, 29th June, but throughout the year - all proceeds will go to Out for Undergrad (O4U).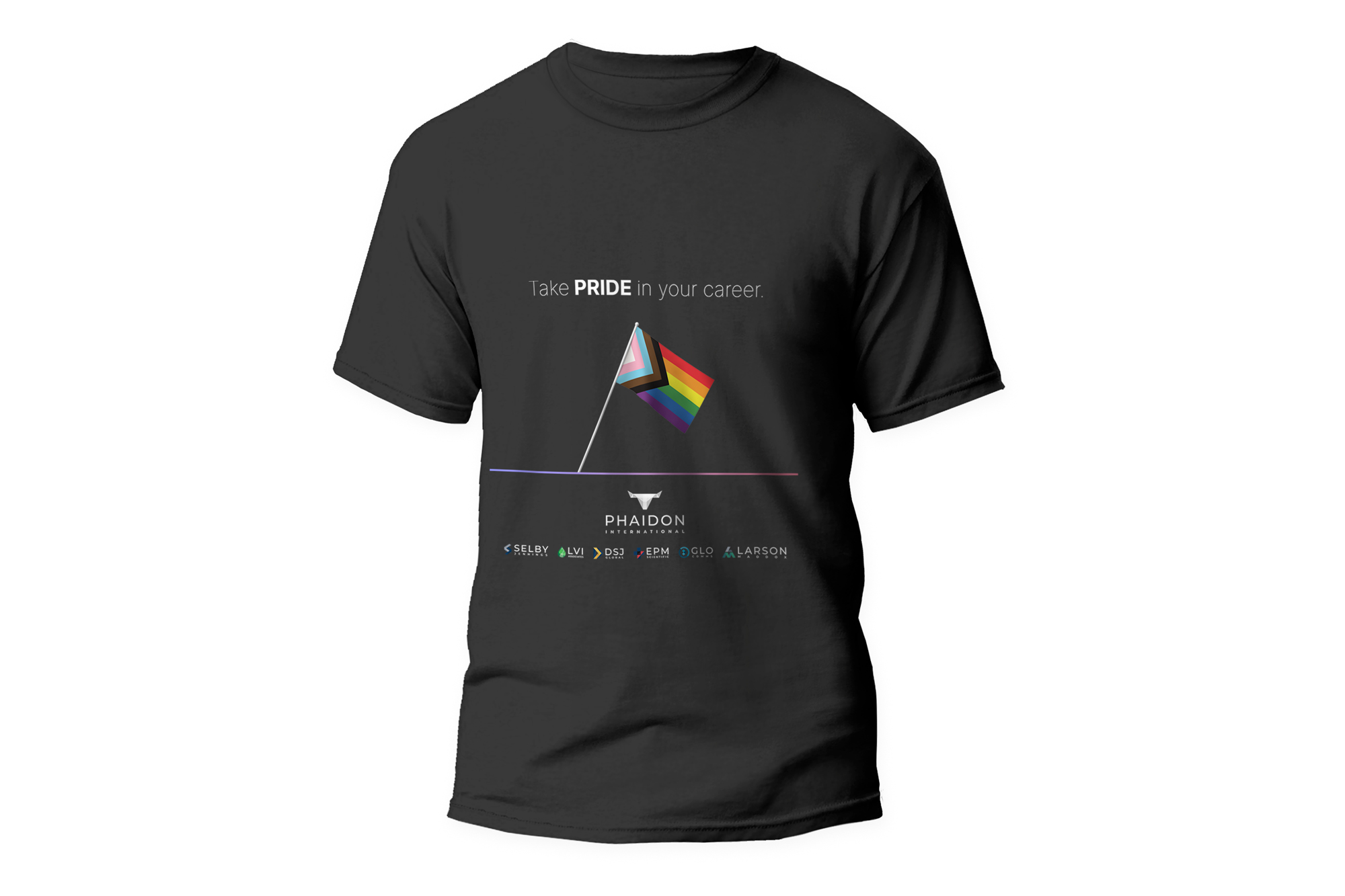 ​
3.
In-person or virtual workshops
Hands-on workshops, whether held virtually or in-person, are an important way to explore certain topics such as unconscious bias, managing pronouns, to improving workplace inclusivity. Across our offices, virtual and internal panel discussions will be taking place throughout the summer. We will use our roundtables to explore the struggles and strengths of the LGBTQIA+ community and to encourage our colleagues to feel empowered to voice their opinions.
4.
Donate to charities
Actions speak louder than words – take your commitments a step further by supporting local charities. There are heaps of non-profit organizations that are working hard to advocate for equality, provide the best social support, and protect the rights of the LGBTQIA+ community. During Pride Month, and beyond, you could set up donations or a fundraising page that your peers can participate in. Why not get teams and departments involved? From cake sales to fitness challenges there are many ways that individuals can give back to the LGBTQIA+ community.
5.
A safe space
While attending Pride Parades and hosting roundtables are helpful ways to show visibility and uplift organizational actions, it's important to look inwardly to support those within the company. One way to ensure your LGBTQIA+ peers feel valued and represented is to put them forward for local forums or to have a seat at the table in decision-making processes, particularly on LGBTQIA+ issues.
At Phaidon International, alongside dedicated workshops across the summer months, we will send out internal emails on a weekly basis to delve deeper into specific LGBTQIA+ themes. From outlining the importance of Pride Month to shining a spotlight on the LGBTQIA+ community and their daily struggles, we hope by opening discussions and creating a safe space for all employees, we can encourage positive collaboration and help our staff unite under a shared goal – eradicating discrimination.
Follow us on our social media channels to see how we're celebrating Pride this year or head over to our Diversity & Equality hub for more resources.