The German version of this article can be downloaded here.
​
Navigating the Phaidon International Interview Process
If you're considering a career as a consultant, finding the right company involves navigating their interview process. In our blog "Do you have what it takes to be a talent expert?", we explored what key qualities you should bring with you to succeed in your role at Phaidon International. To make your decision even easier, here's what awaits you when you decide to apply.
​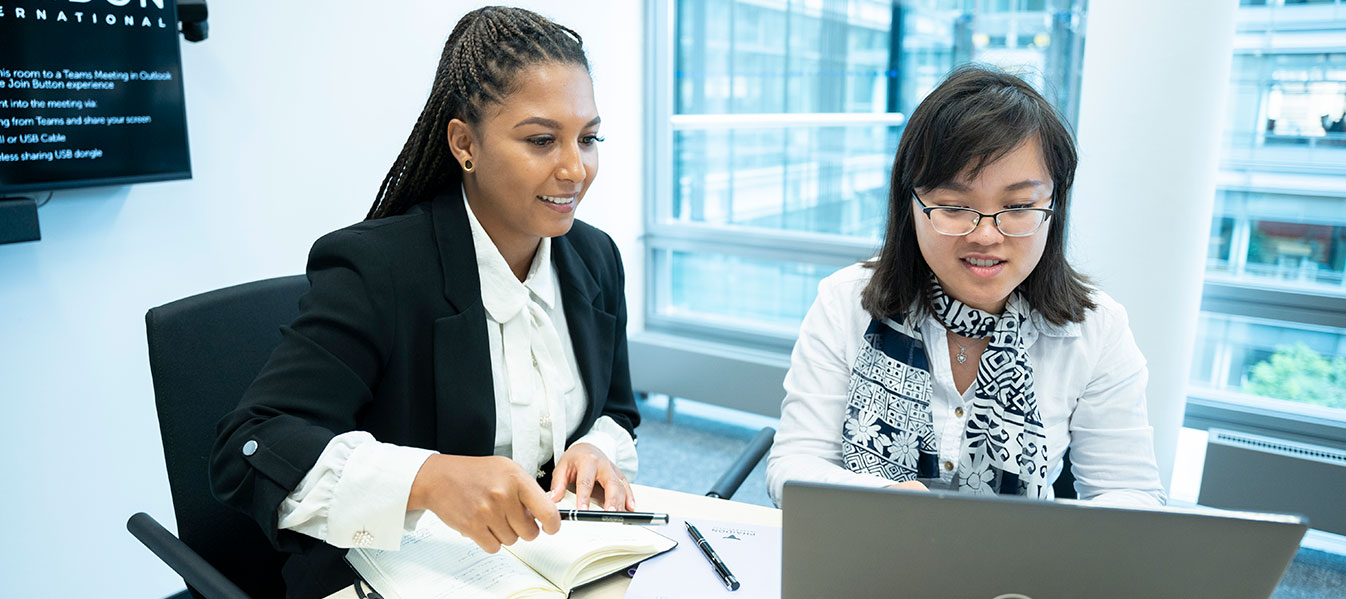 ​
Step 1: Application
"I wanted a better work-life balance," explains Lyss Moss, Associate Consultant at Glocomms. "I want to like what I'm doing and who I'm doing it with. So there I am scrolling LinkedIn and found an ad for Phaidon International. All other firms wanted experience, but I was looking for somewhere I can learn. Phaidon International offered that – so I applied immediately."
At Phaidon International, you get to define your success. We provide the tools, learning, and a diverse culture to help you thrive, and help others do the same.
Ready to move your career forward and explore the opportunities Phaidon International has to offer? Apply here.
​
Step 2: Assessment
After we receive your application, we invite you to complete an online assessment. You'll receive a link within 24 hours during the working week.
The assessment must be completed within 72 hours, after which it will no longer be accessible.
​
Step 3: The first interview
If your results match our requirements, a member of our Talent Acquisition team will reach out to schedule an interview. You'll be able to pick a slot that works around your schedule.
During this interview, both you and the Phaidon International team will be able to build an in-person impression as to whether or not we're a fit in terms of mindset, skills, and company culture.
​
Step 4: The second interview
If we're both eager to move on, there will be a second interview with a manager. Most of the managers at Phaidon International have been where you are, given that we value organic growth. As team leaders, they can also determine whether the opportunity at Phaidon International is right for you.
If this interview goes well, you will be invited to carry out a trial task or attend a trial day.
​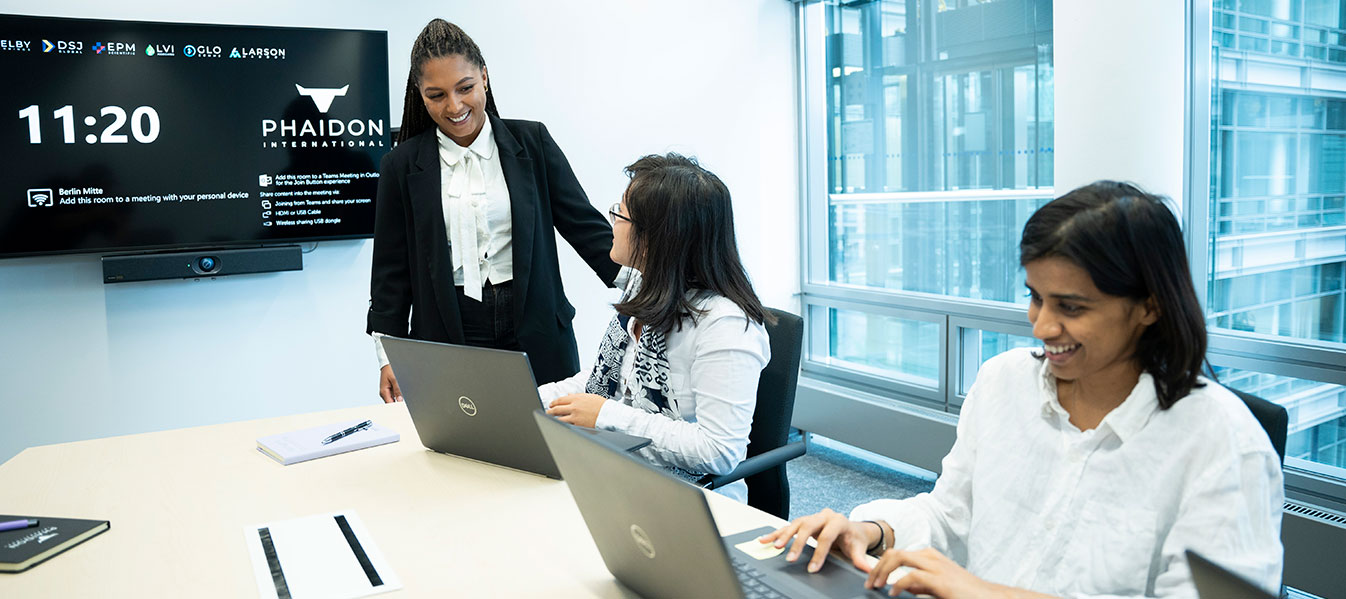 ​
Step 5: Trial day
Great news, you're soon on your way.
Your trial day will be on-site at your nearest Phaidon International office or virtually. This will provide you with the opportunity to get real experience for the role.
​
Step 6: The decision
Since we value your time, we offer swift feedback. You will receive an offer within one to three days at most. Now, it's time to decide if Phaidon International is the right fit for you.
Want to know more about life as a consultant? Here's what our team had to say about their experience at Phaidon International.
​
What if you fail to advance?
Speaking with Shravani Mastakar, a member of the Talent Acquisition team in Berlin, she addressed the number one concern of prospective Phaidon International employees: "I never ghost a candidate."
If we don't think you're a fit, we will communicate it quickly to respect your time. Regardless of the stage you have reached within the interview process, you can expect a personal call.
​
Leading by example
Our commitment to a great candidate experience extends to all areas of the interview process. Looking for your first job after graduating, or a new challenge after you've gained valuable life experience can be daunting. That's why we aim to make the process as quick and respectful as possible.
For Shravani, this commitment was the reason she chose Phaidon International out of several other talent search companies.
​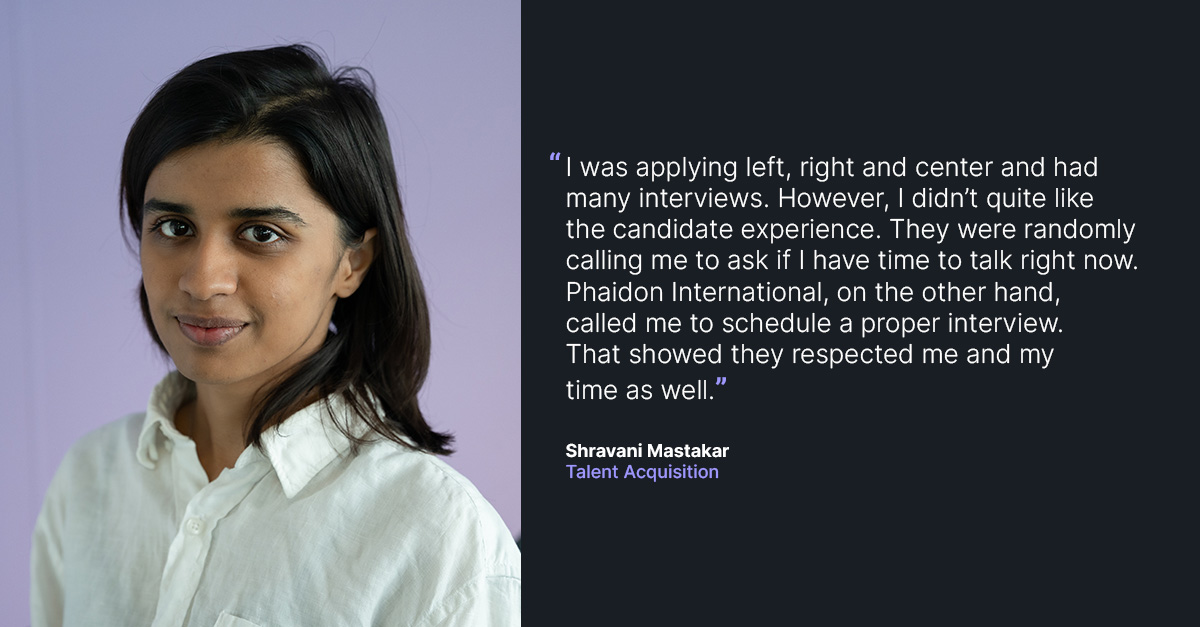 ​
Shravani also appreciated how fast the process was. This speed demonstrated how much Phaidon International was truly committed to her as a candidate and valued her time. "I was hired within a week – on Monday, I had my first interview with Talent Acquisition. On Wednesday, I met with a manager." And by the end of Friday, Shravani had received a job offer.
Now that she is part of the Talent Acquisition team, Shravani aims to provide the best experience she can to potential new joiners.
At Phaidon International, you'll build a career as unique as you, with the global scale, support, and inclusive culture to unlock your full potential.
Are you ready to join our team and take your career to the next level? Click here to apply.