The importance of celebrating International Women's Day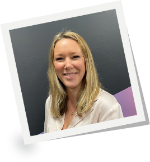 To celebrate International Women's Day, we caught up with Lucy Parker, Executive Director and Head of Projects at Phaidon International.
Originally from London, Lucy has spent 11 years working for Phaidon International. She initially joined as a recruitment consultant for Financial Services brand, Selby Jennings, specializing in Sales & Trading. Soon after, Lucy moved over to the New York office, spending nine years running the contracts business, and shortly after that, she moved into an internal consulting role.
After working as a recruiter, sales manager, and performance director, she now runs the Special Projects function, working on global initiatives.
Lucy shared her views on the importance of International Women's Day, the ways in which Phaidon International supports all women across the business, as well as the advice she'd give her younger self.
Over the years, Lucy's career has presented her with a variety of opportunities, enabling her to learn a great deal about the business and consequently climb through the ranks. In addition, her myriad of experiences across recruitment, sales, and performance has allowed her to bring the commercial edge into operational functions.
When asked about the proudest moment of her career, Lucy told us:
"I would say being promoted into the role I am now in. Five years ago, I moved from a core sales role and created a new internal consulting division. At first, I was working with individual teams, which then evolved to working with entire brands and business units across North America. Recently, I moved to London from New York and I now work with our global leadership team on key strategic projects.
"So far, the role has been challenging, but I am proud to have been trusted with and given the opportunity to increase my impact and truly shift the dial across the business on a global scale."
Lucy's experience at Phaidon International has empowered her as a female leader and her journey emphasizes the progression opportunities available here, as well as the focus on supporting employees to reach their full potential.
"Celebrating the work and achievements of women in the business highlights role models to other women, and inspires us all to achieve our full potential. International Women's Day also opens up communication channels for both women and men to support each other and share experiences.
"While International Women's Day activity escalates for March 8, Phaidon International maintains a continuous focus on equity, diversity and inclusion all year round and embraces those who are proactive in organizing events and initiatives. It isn't about day-to-day special treatment, but about providing an inclusive and open environment in which everybody can thrive and have an equal platform to embrace job opportunities."
She continued to tell us about the benefits and policies at Phaidon International, which have particularly helped support women in their roles and on their journey to success.
"I have been actively involved in the Women In Sales Awards (WISA). In 2018 I set myself that goal and put myself forward, which Phaidon International has been really supportive of. Since then, I've worked with 30-40 women who have gone through the same awards process and we've built up a number of winners through it. Key to the success of WISA for us has been the men in that process too, helping with applications and nominating women in the first place.
"Phaidon International has also supported me in my further education, which is great for anyone that works here. I gained a qualification in Organizational Consulting & Change Leadership from Georgetown University, and brought that knowledge back with me into my role, so Phaidon International really benefits from its own policy of offering extra qualifications and education too."
Amid carrying out a significant role in the business, Lucy also recently became a mother and has nothing but positive things to say about the support Phaidon International offers its female employees.
"From pre-maternity leave planning and handover, to creating a plan for when I returned, it was all very encouraging.
"It can be hard emotionally, so it was good to come back to something meaningful and I felt excited to come back. I had optional check-ins as well, such as going into the office during maternity leave for a board meeting, so I still felt in the loop, which was important to me.
"I now work four days a week and that flexibility has also really helped.
"Phaidon International have been incredibly supportive in giving and helping me make the choices that are right for me, my career, and my family.
"I also think it is a two-way street, and you have to be proactive in saying what you want to do, and what could work best for you. Employers create the platform, but you also need to communicate as well."
Finally, we asked Lucy what advice she would give to her younger self:
"Surround yourself with the right people who support you, empower you and push you to be your best. Be proactive and mindful in creating that for yourself both within and outside of the workplace."
__________________________________________
Read more inspiring stories from the women of Phaidon International here.