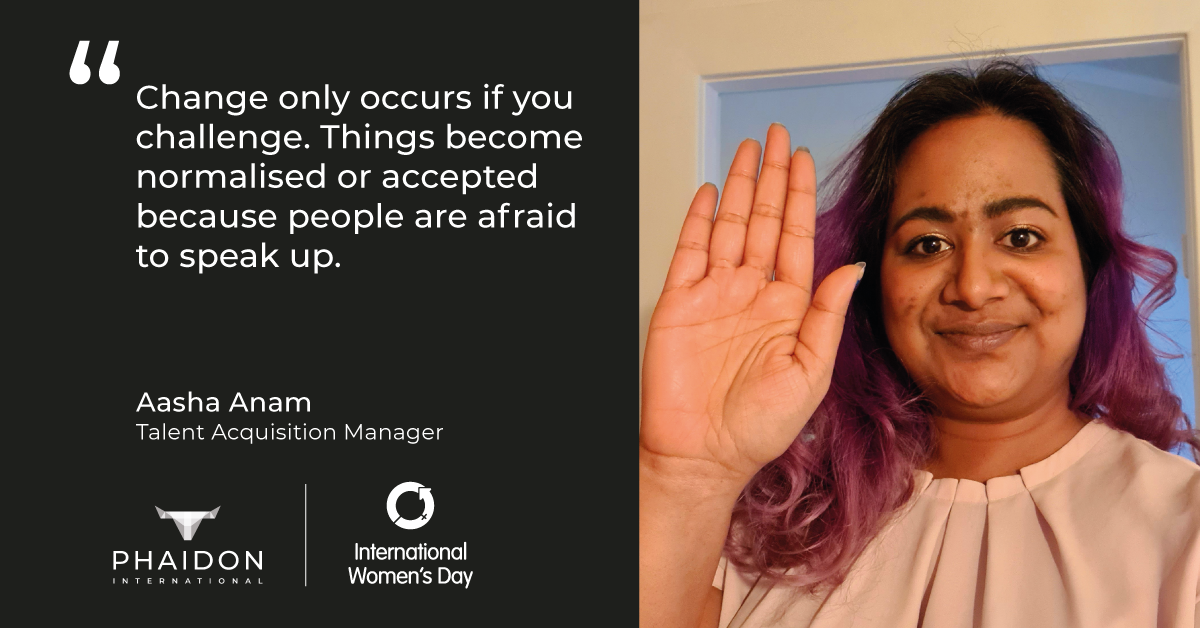 ​This year's International's Women's Day theme #ChooseToChallenge represents the idea of challenging norms related to gender equality to create change.
At Phaidon International, we choose to challenge and promote gender diversity and inclusion.
​
Aasha Anam, Talent Acquisition Manager for Europe, shares her thoughts on this year's theme, and how she chooses to challenge in her role.
​What does the #ChooseToChallenge message mean to you?
Change only occurs if you challenge, things become normalised or accepted because people are afraid to speak up, especially in the moment, they think it won't make a difference or in fact that they are seen to be trouble makers. To counter this, people in leadership and position of influence have an obligation to challenge, in order to empower those around us and normalise these kinds of conversations. Choose to challenge for me is fundamentally about education, not confrontation.
What sort of conversations around gender equality do you have with your clients in your role? Has Covid-19 had an impact on gender equality?
I recruit heavily in the Graduate and Early Career market and generationally there is a massive shift in what people expect in terms of E, D & I, the bare minimum or a token effort is quickly identified and diversity and equality is regularly in the candidate top three wish list. Our Berlin office specifically is 50% female and it is something candidates, internal stakeholders and external partners often comment upon and it is a great conversation starter especially given the phenomenal success of the team. Part of my role is to advise and support and educate our internal Management and Leadership team (essentially my clients) on this and I also sit on our European Employee forum for E, D & I. It's truly something I am passionate about.
​What role can recruiters play in challenging norms and creating change?
I don't think we can underestimate our role as recruiters in choosing to challenge! So often it comes down to the language we use in our job adverts, in getting behind the words of a "person specification" or the "right culture fit" and in educating our clients in how to attract diverse talent, how to interview objectively and how to recognise and challenge unconscious bias. We specialise in placing niche, technical roles- these roles are already difficult to fill, in a highly candidate driven market, without unnecessary barriers and we are uniquely placed to see how a variety of industries and companies are doing so- the good, the bad and the ugly!
​What advice would you give to a company trying to create a diverse hiring strategy?
It can't be a tick box exercise and you have to get buy in from senior leadership. In my opinion the number one thing you can do is create a safe, open and if necessary confidential line of communication- you can not be scared of what might come out, "out of sight, out of mind" can no longer be an acceptable strategy. We have to change the mindset, feedback is an opportunity to be better!
​As a female leader, what advice would you give to other aspiring leaders in overcoming potential gender biases and achieving career success?
My biggest piece of advice is to build your own confidence, concentrate on your own growth, speak up about your achievements. Don't make yourself smaller/bigger, more accommodating, less/more vocal, less/more feminine (all advice I have been given in the past!) Don't be afraid to have conversations and seek the advice and allyship of those who can support you and are in a more senior/influential position to you. Finally our L&D manager for Europe once gave me this piece of advice: when you hear, see, feel something is not right-ask in a non confrontational almost curious way "sorry, can you explain what you mean" because either they can and you have misinterpreted or as they explain they realise what exactly it is they have said!
​About Aasha Anam
I have worked in the recruitment sector for over 7 years with experience across 360, Business Development and now in a Talent Acquisition function for Phaidon International. I am currently based in Berlin having relocated from London in my current role and oversee the Recruitment for our European offices.