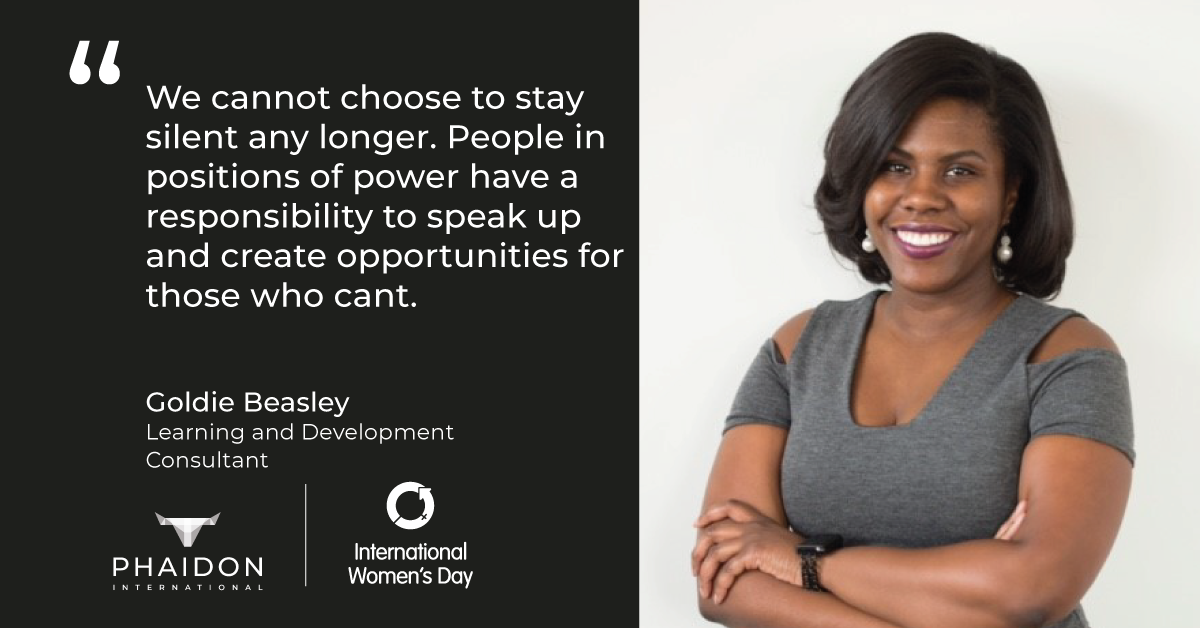 ​​​This year's International's Women's Day theme #ChooseToChallenge represents the idea of challenging norms related to gender equality to create change. At Phaidon International, we choose to challenge and promote gender diversity and inclusion.
Goldie Beasley, Learning and Development Consultant at Phaidon International, shares her thoughts on this year's theme, and how she chooses to challenge in her role.
What does the #ChooseToChallenge message mean to you?
#ChooseToChallenge to me means speaking up. Calling out inequality and injustices. Staying silent signals acceptance/compliance and we cannot choose to stay silent any longer. People in positions of power have a responsibility to speak up and create opportunities for those who can't.
What sort of conversations around gender equality do you have with your clients in your role? Has Covid-19 had an impact on gender equality?
I think COVID-19 has forced many of us to alter our norms and, as a result, people were forced to open their eyes.
What role can recruiters play in challenging norms and creating change?
By creating open and honest relationships that allow them to call out passive inequalities, as well as direct ones. Educating clients on effective strategies retain and hire diverse talent and creating a culture that makes them feel valued and supported.
What advice would you give to a company trying to create a diverse hiring strategy?
Make a direct effort to identify and retain qualified experts in the field to assist with defining and identifying company challenges (and solutions) instead of relying on the impacted groups to create solutions for their own marginalization. Don't just try to create a diverse hiring strategy, actually do it. The talent is there; seek it out if you must.
As a female leader, what advice would you give to other aspiring leaders in overcoming potential gender biases and achieving career success?
Never stop learning, never stop growing. Take all feedback given and use what you can (whether you agree or disagree) and when you achieve success, reach back and help someone else!
About Goldie Beasley
Goldie Beasley is a Learning and Development Consultant at Phaidon International. She has an MBA with a concentration in Human Resource Management. She is passionate about people development because it is the key to growth and success for every company.