​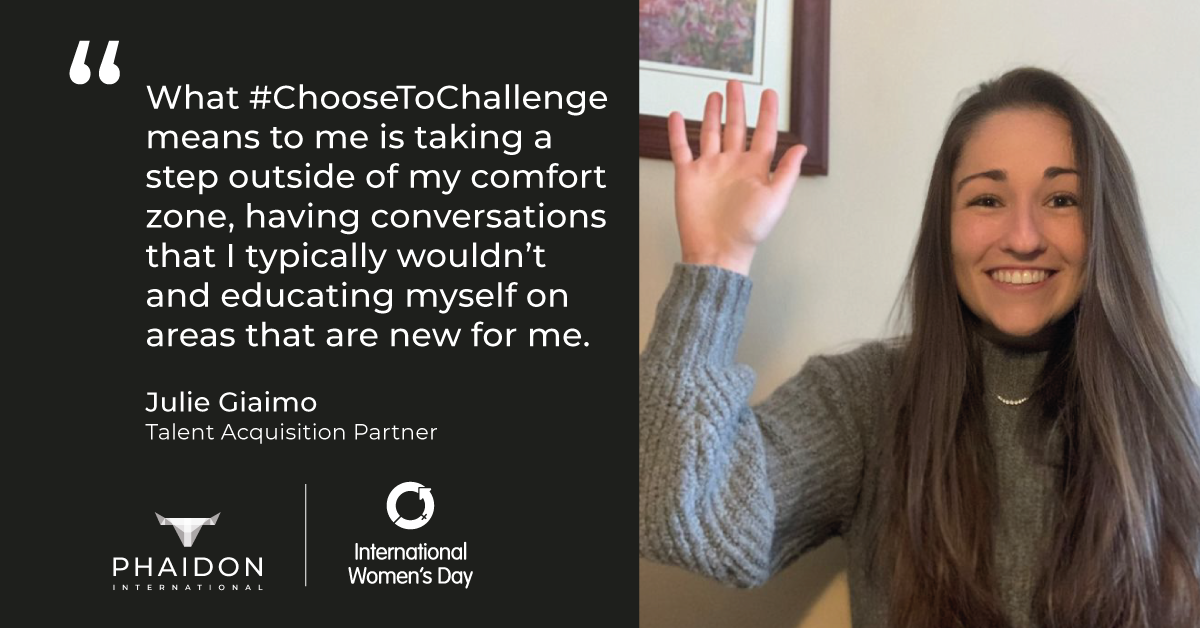 ​This year's International Women's Day theme #ChooseToChallenge represents the idea of challenging norms related to gender equality to create change. At Phaidon International, we choose to challenge and promote gender diversity and inclusion.
Julie Giaimo, Talent Acquisition Partner at Phaidon International, shares her thoughts on this year's theme, and how she chooses to challenge in her role.
What does the #ChooseToChallenge message mean to you?
​What #ChooseToChallenge means to me is taking a step outside of my comfort zone, having conversations that I typically wouldn't and educating myself on areas that are new for me.
​
What sort of conversations around gender equality do you have with your clients in your role? Has Covid-19 had an impact on gender equality?
​Working for and hiring for an organically grown (and continually growing) company like Phaidon International comes with an evolution of what leadership looks like. Our business was founded on the practice of staffing & recruiting within the banking & financial industry, both of which is are commonly male dominated industries. As our business has grown and our specializations have expanded, the talent has increasingly diversified. The growing female leadership that represents Phaidon is bigger than it ever has been before and is continually paving the way for gender equality in the workplace.
When I think about how Covid-19 has impacted gender equality, I think about all the working moms out there who had to do their full-time jobs from home during a global pandemic, while also being a fulltime teacher to their kids and a caretaker all in one. Though Covid-19 landed many of us into a situation where we were at home much more than ever before, it also strained the work/life balance that so many of us value.
​
What role can recruiters play in challenging norms and creating change?
​One of the biggest benefits that comes with a career in recruitment is that you are able to build amazing networks with people from all different types of backgrounds and experiences. If we continue to ask how we can be better individually or as a business, we will be presented with ideas. These ideas form solutions and those solutions create a foundation for change!
​
What advice would you give to a company trying to create a diverse hiring strategy?
​One of the first steps is to examine what works and what needs to improve. Then set yourself some goals to hold yourself accountable to. Communicate this plan to your team so that everyone is on board. Implementing sessions around unconscious bias training and interview training to new and old hiring managers can go a long way.
​
As a female leader, what advice would you give to other aspiring leaders in overcoming potential gender biases and achieving career success?
​The best piece of advice that I have ever received was "just because it hasn't been done yet doesn't mean that it is impossible." Network with your colleagues, ask for advice, and never give up on your dreams.


About Julie Giaimo
​Julie Giaimo is a Talent Acquisition Partner for Phaidon International. She joined the business as a recent graduate in 2017 and is based out of our Manhattan office. In her time with Phaidon International she has been able to grow our business by over 100+ employees across the USA.
​Visit other International Women's Day related content here.
​