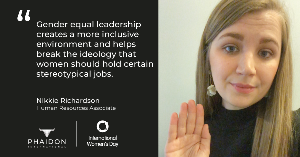 ​This year's International Women's Day theme #ChooseToChallenge represents the idea of challenging norms related to gender equality to create change. At Phaidon International, we choose to challenge and promote gender diversity and inclusion.
Nikkie Richardson, Human Resources Associate at Phaidon International, shares her thoughts on this year's theme, and how she chooses to challenge in her role.

What does the #ChooseToChallenge message mean to you?
#Choosetochallenge is about breaking down walls and challenging the status quo. Gender equal leadership creates a more inclusive environment and helps break the ideology that women should hold certain stereotypical jobs. We still see the common misconception that gender based behaviors make some roles suited for men and some for women. This is not the case and we need to change the narrative that roles are gender confirmative by choosing to challenge.
What sort of conversations around gender equality do you have with your clients in your role? Has Covid-19 had an impact on gender equality?
Internally at Phaidon International, we have recently launched the ED&I Forum. This forum focuses on equality, diversity, and inclusion for all. With that being said, gender equality is something that we are taking time to focusing on as a business. COVID-19 has further highlighted existing gender inequalities around the world, as the pandemic has had a disproportionate impact on women and female employment. As a recruitment firm, our consultants are in a unique position to challenge the regressive effect on gender equality. My role as HR Associate and a member of the ED&I forum, is to continue to educate our employees on what they can do to drive gender equality – internally and externally.
What role can recruiters play in challenging norms and creating change?
Phaidon International, our recruiters can challenge norms and create change by using blind resume screening processes for clients as well as educate clients around unconscious biases. From a candidate perspective our recruiters can ensure an experience that is free from discrimination and unconscious bias. Our recruiters understand that they can create change and help educate clients on their diversity hiring strategies and practices.
What advice would you give to a company trying to create a diverse hiring strategy?
To create a diverse hiring strategy, you must have the support from the entire business to recognize this as a top priority. Ensuring hiring managers and recruiters have specialized training around unconscious bias will help with evaluating every resume against the same standards and reviewing the job description to ensure the wording appeals to all.
As a female leader, what advice would you give to other aspiring leaders in overcoming potential gender biases and achieving career success?
As a female leader do not be afraid to lean in, make noise, break through barriers, raise your hand, and keep the conversation of female representation and leadership at the forefront of every conversation. Explore what is required to help you rise in the company and focus on defining your skillset. Actively help foster a culture of inclusion and make sure you feel heard while inspiring others to do the same.
About Nikkie Richardson
Nikkie is the HR Associate for Phaidon International U.S. Based in New York, she provides HR advisory services across the U.S. and supports HR strategy and projects. An active member of Phaidon International's ED&I employee forum, Nikkie supports the forum's internal communications, ensuring key messages from the forum are impactfully delivered. Prior to joining Phaidon International Nikkie held HR advisory roles in Fashion and Fashion Manufacturing. Nikkie joined Phaidon in the summer of 2020 to support the HR function. ​
​Visit other International Women's Day related content here.