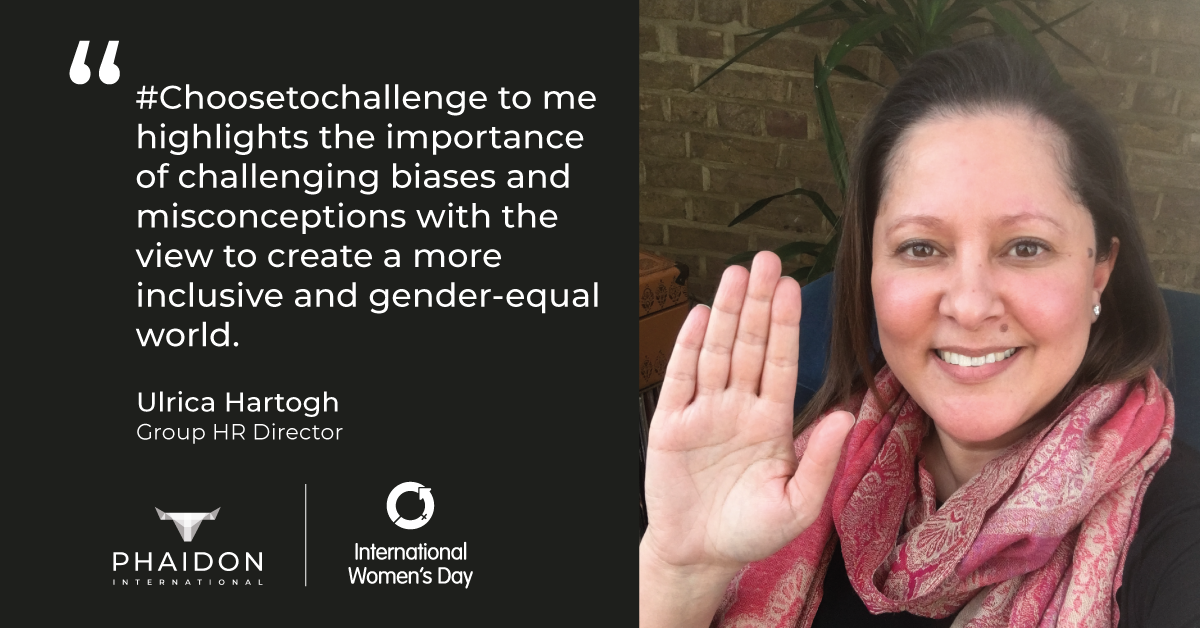 ​
This year's International's Women's Day theme #ChooseToChallenge represents the idea of challenging norms related to gender equality to create change.
At Phaidon International, we choose to challenge and promote gender diversity and inclusion.
​
Ulrica Hartogh, Group HR Director, shares her thoughts on this year's theme, and how she chooses to challenge in her role.
​
What does the #ChooseToChallenge message mean to you?
​#Choosetochallenge to me highlights the importance of challenging biases and misconceptions with the view to create a more inclusive and gender-equal world. Whether at work, home or in our communities, we all have a role to play.

What sort of conversations around gender equality do you have with your clients in your role? Has Covid-19 had an impact on gender equality?
​I think the Covid-19 pandemic has impacted gender equality in a number of ways and will continue to have an impact in the post-pandemic recovery. Economically, women will have suffered more negatively through job losses given the proportion of women working in sectors impacted by the pandemic. The closure of schools and childcare facilities, will have exacerbated existing inequality and imbalance, especially in instances where women already take on majority of childcare responsibilities. On the positive side, I can see how the forced working from home experiment will push men to consider more flexible options in working arrangements in a post-COVID world, potentially creating more balance in the future.
​
What role can recruiters play in challenging norms and creating change?
​Recruiters are perfectly placed to influence hiring strategies within organisations through conversations, education and highlighting the benefits of having a more inclusive, bias-free business. They can play a role of advisor, educator and change agent.
​
What advice would you give to a company trying to create a diverse hiring strategy?
​Commitment to diversity needs to be a business imperative and driven from the top. Understand what you want to achieve and why and include your hiring managers on the journey. Continually create awareness and education around diversity and inclusion. Challenge and change current hiring strategy in meaningful way that will bring about about actual change.
​
As a female leader, what advice would you give to other aspiring leaders in overcoming potential gender biases and achieving career success?
​Surround yourself with people who have a positive influence on you. Call out bad behavior, whether gender or any other bias. Ask for feedback on areas you want to develop. Find a mentor.
​
About Ulrica Hartogh
​Originally from Cape Town, South Africa, I have worked in various sectors, such as fashion retail, media, ed.tech and recruitment. I joined Phaidon in 2019 as Global HRD. I'm an avid traveller (when that was still a thing!) When not travelling, I love growing my vinyl collection.
​
​​View other International Women's Day content or visit our Diversity & Inclusion resources.