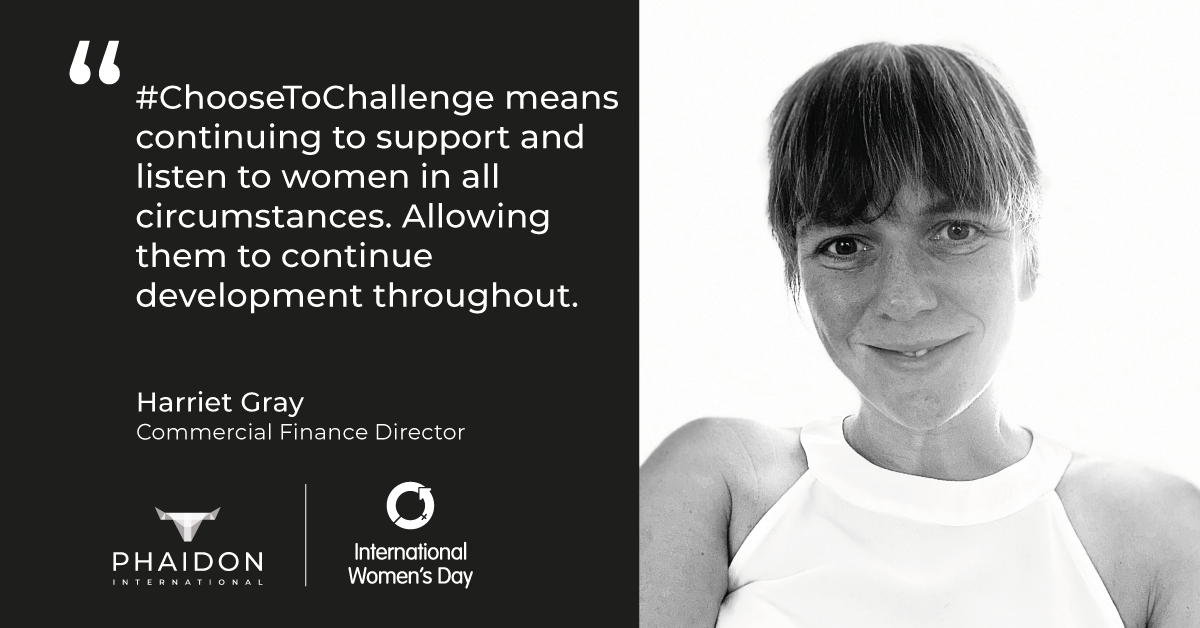 ​
This year's International's Women's Day theme #ChooseToChallenge represents the idea of challenging norms related to gender equality to create change.
At Phaidon International, we choose to challenge and promote gender diversity and inclusion.
​
Harriet Gray, Commercial Finance Director, shares her thoughts on this year's theme, and how she chooses to challenge in her role.
​
What does the #ChooseToChallenge message mean to you?
​Choose to challenge means continuing to support and listen to women in all circumstances. Allowing them to continue development throughout.

What sort of conversations around gender equality do you have with your clients in your role? Has Covid-19 had an impact on gender equality?
​Not with clients or candidates as this is not my day to day but with friends and peers and many have been dramatically affected, losing jobs, having to quit due to no support with childcare, unrealistic expectations set.
​
What role can recruiters play in challenging norms and creating change?
​Educate educate educate... both clients and candidates, not discriminating because of gender.
​
What advice would you give to a company trying to create a diverse hiring strategy?
​Be honest. It has to come from top as a strategic goal and set realistic goals. Have quantifiable outcomes.
​
As a female leader, what advice would you give to other aspiring leaders in overcoming potential gender biases and achieving career success?
​It's hard. Don't change to become more like men - have patience and be clever about what to advocate. Do your job to your best ability and speak to other women/men who will work with you not against you. Unfortunately women can be also detrimental in your career due to the bias they have.
​
About Harriet Gray
​Qualified professional and mum. Worked in recruitment for 15+ years, in both private and corporate companies. Love building and developing teams!
​
​View other International Women's Day content or visit our Diversity & Inclusion resources.