​A challenging world is an alert world. Individually, we're all responsible for our own thoughts and actions - all day, every day.
At Phaidon International, we choose to challenge and call out gender bias and inequality. We choose to seek out and celebrate women's achievements. Collectively, we can all help create an inclusive world.
From challenge comes change, we have an interview with Katrina Chui, Head of Marketing, APAC at Phaidon International, let's find out how she chooses to challenge.
​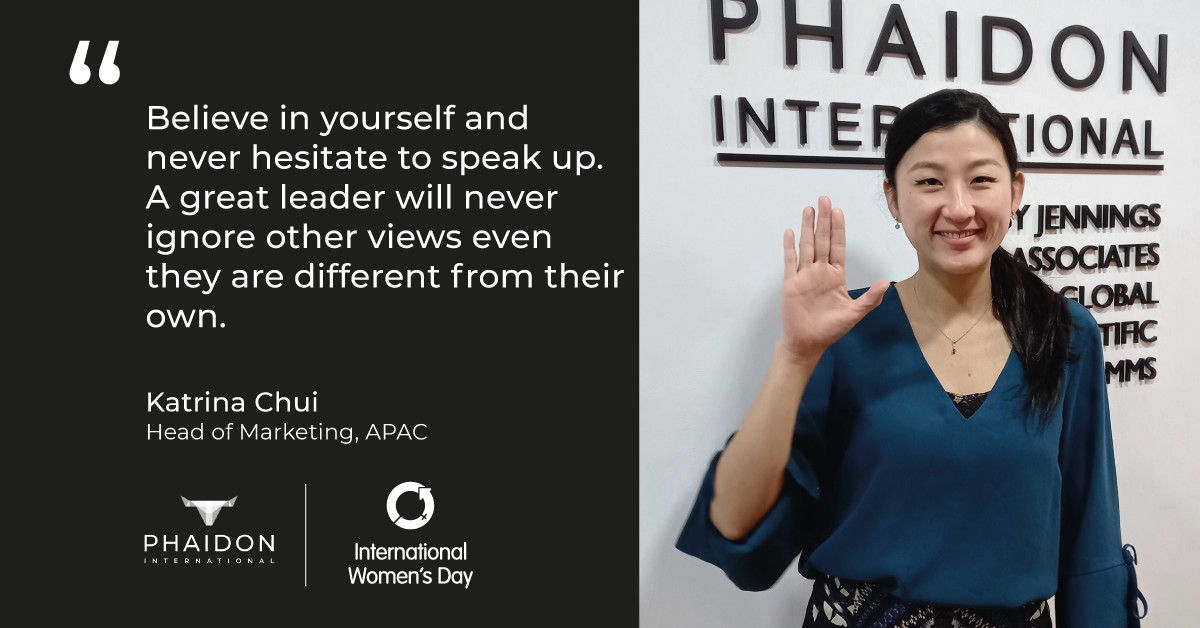 What does the #ChooseToChallenge message mean to you?
To me, #ChooseToChallenge means to voice out instead of keeping quiet. It can be something that you see is not fair, voicing out for yourself or others; It can also be ideas that you have in mind or comments or suggestions that you have for others.
​
What sort of conversations around gender equality do you have with your clients in your role? Has Covid-19 had an impact on gender equality?
As my role covers all external content (i.e. media interview), the conversation with my clients (the leadership team) around gender equality is to make sure that male and female employees got the same chance to be highlighted or featured. It should be purely based on their knowledge about their market and their abilities.
With Covid-19, the majority workforce has experienced working from home and homeschooling. I think this helped everyone to revisit others around you that wear multiple hats of roles in life. And with the experience and practice for corporate remote working, I believe it opens up doors for flexibility which can help to put gender quality forward at the workspace.
​
What role can recruiters play in challenging norms and creating change?
Recruiters should be advisors/consultants for hiring managers. With the market knowledge and experience in working with a lot of companies in the same industry, we should be sharing success stories with our clients. Advise them how to hire the best that can help the business forward, instead of pre-assuming certain profiles automatically fit in the business. Recruiters should also trust their expertise to challenge clients, especially when they hire based on their previous experience or being stereotype: i.e. Female need to be off work on time and rush home.
​
What advice would you give to a company trying to create a diverse hiring strategy?
Be creative.
No doubt it is not easy to have an equal amount of male and female candidate pool in certain markets. Be creative in your hiring strategy. For example, on top of posting job ads on job boards, have you think of putting adverts on women-focused websites? Or even to "mama groups" or get your female employees to share with their groups. Instead of putting a traditional responsibility and requirements type of job ads, what about writing the job ads on how it can fully unleash their ability and highlight the benefits that can help them to balance their roles in life. Be creative on the benefits or perks that your company can offer as well. Maybe adding a lunchtime recharge session - book in a manicurist or masseuse as a benefit for employees to relax during lunchtime.
​
As a female leader, what advice would you give to other aspiring leaders in overcoming potential gender biases and achieving career success?
Believe in yourself and never hesitate to speak up.
When you see bias or unequal situation around, you should always flag to the leadership team and raise awareness. A great leader will never ignore other views even they are different from their own. So, never hesitate to speak up your mind if you think this is not right or there is room for improvement. The worst you can get is being ignored, but the flip side is you will find out if you are following a great leader.
​
​
About Katrina Chui
Katrina Chui is the Head of Marketing, APAC at Phaidon International. She is passionate about equality not just for gender, but also for race and age.
​
Visit other International Women's Day related content.